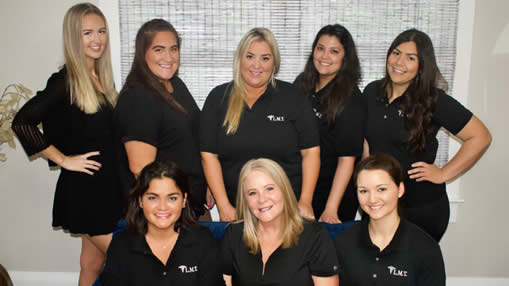 On-Site Seated Massage
for the Workplace
Empower your company's greatest asset - your employees – to be more productive, balanced, and focused.
On-site Corporate Massages are an easy, cost-effective way to:
Improve employee morale

Relieve damaging tensions

Increase motivation & productivity

Lower health care costs

Show your staff you care
What is Seated Massage?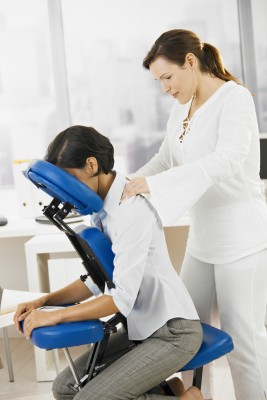 With on-site corporate massage we come to you. We use a portable massage chair, which can be set up and dismantled quickly, designed for comfort and support.
One of our licensed professional massage practitioners will massage the high tension areas of the head, neck, shoulders, back, arms and hands, from 5 to 30 minutes. No oils or lotions are used and the employee remains fully clothed. The recipient leaves feeling refreshed, rejuvenated and ready to return to work.
Begin enjoying your on-site massages right away!
Simply assign a contact person. He or she will help us set a schedule, publicize the program, and sign people up.

Provide a space. Minimal space is required - a conference room, break room, or a quiet corner is fine. After the day's sessions, the space can return to normal use.

Encourage staff to use it. Make sure they know you support the program. Use it yourself and encourage your managers to do the same.
Cost Effective? Yes!
Seated massage is quite affordable because it is shorter than a regular table massage, so it costs proportionately less.
There is no up-front investment in equipment or facilities.


You pay only for employees who use it.

Employees can pay part or all of the cost.

Massages can take place on break time so no work time is lost.

Two massages a month cost much less per employee than most other health programs.

If it saves even one employee from a job related injury, it's a worthwhile investment in future medical costs.
It excels as a wellness program.
It's convenient. No need to change clothes, shower or leave work to participate.
Results are immediate. Most wellness programs take months to show results.
It's easy and safe. No special fitness level or training is required to receive a massage.
Effects are cumulative. Consistent use reinforces the benefits.
People enjoy it. You avoid two common problems: spending more selling a program than on the program itself, and then having it used most by employees who need it least.
It encourages other steps to wellness. Regular massage helps people feel better and can motivate them to take care of themselves with diet, exercise or other lifestyle changes.
It is a versatile benefit too.
Once on-site massage is in place, you may find it also a great way to recognize birthdays or service anniversaries, provide incentive awards for good attendance or an accident-free period, or give a bonus for achieving company and individual goals or completing projects.
These uses are also an ideal way to try on-site massage without an ongoing commitment.
Stress costs businesses money.
Stress on or off the job costs U.S. workplaces an estimated $200 billion a year in reduced productivity, accidents, compensation claims, absenteeism, employee turnover, health insurance and medical expenses. This is a more than the after-tax profits fo the Fortune 500 companies, and 10 times the cost of all strikes combined. Recent studies show:
Up to 90% of all visits to primary care physicians are for stress-related complaints.

Up to 80% of industrial accidents are due to stress.

Over 50% of lost work days are stress-related.

14% of workers say stress caused them to quit or change jobs.
Get Started Today.
Call for a demonstration of an on-site seated massage.
Your business never felt better.
More Information on our Exceptional Services:
Spinal Decompression
Skin Care & Hot Paraffin Treatments
Herbal Body Wraps & Scrubs
Microdermabrasion
Massage Therapy
Sports Massage