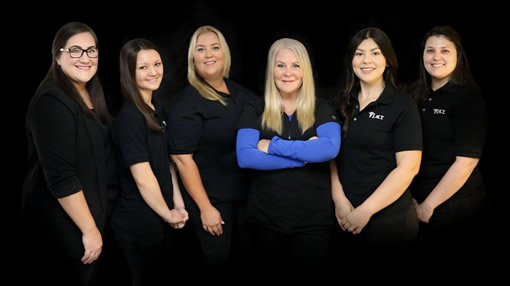 Definition of Treatments

Massage therapy treatments
(All massage treatments include moist hot pacs)
Swedish/Relaxation - Beneficial for increasing the level of oxygen in the blood, decreasing muscle toxins, improving circulation and flexibility while easing tension. Promotes mental and physical relaxation, stimulates circulation, eases sore and tense muscles, and promotes regular sleep patterns.
Deep Tissue/Neuromuscular - Similar to Swedish massage, but deeper pressure and slower strokes are used to release chronic muscle tension. Deep Tissue Massage has less emphasis on relaxation during the massage session and more emphasis on altering structure and muscle restrictions, and provides an increased degree of relaxation, alleviation of pain, and longer-lasting benefits. Effective for chronic muscular tension and promotes restoration of flexibility.
Hot Stone Massage - A deeply relaxing massage, which involves warm, smooth, healing stones used to massage your body. Stones are placed on various points of the body ideal for tense muscles. The heat from the stones relaxes and increases the blood flow to the area, which further accelerates the healing process. Hot Stone Massage can be very therapeutic for sore joints and even arthritic pain.
Reflexology - Reflexology massage can be a deeply relaxing and therapeutic modality for those suffering from plantar fasciitis, ankle injuries or even everyday work and play.
Sports Massage - facilitates conditioning, recovery, and dealing with problem conditions that are caused or aggravated by intense physical activity. For the professional athlete or someone with a regular exercise routine, sports massage helps achieve optimal readiness in preparation for your event, helps you recover after an event, and as part of a training regimen, helps maintain optimal physical condition.
PreNatal Massage - Prenatal massage promotes relaxation, facilitates transitions through emotional support and physical nurturing, reduces swelling and blood pressure, increases blood and lymph circulation, reduces strain and pain, and contributes to developing flexibility needed to actively participate in the birth process. Prenatal massage is performed with an emphasis on developing appropriate massage sessions with consideration to your current health conditions, trimester stage, prenatal risks, and complications.
Couples Massage - This is a special time of relaxation with you and your significant other or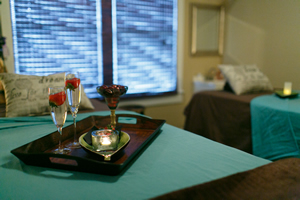 just a friend. Start your treatment with a complimentary beverage (alcoholic or non) and seasonal fruit followed by a customized massage where the both of you are getting that head to toe treatment at the same time in either the same room, an adjoining room or separate rooms; whichever you prefer.
More Information on our Exceptional Services:
Spinal Decompression
Skin Care & Hot Paraffin Treatments
Herbal Body Wraps & Scrubs
Microdermabrasion
Massage Therapy
Sports Massage
On-site Corporate Chair Massages