Our Exceptional Spa Services:
Skin Care & Hot Paraffin Treatments

Skin Care Treatments

When you are comfortable with your skin, that confidence comes through in a natural glow. Facials not only help your skin, but can be soothing and relaxing for your mind. The Estheticians at Massage & Spinal Therapy of Winter Haven offer a serene environment that encourages stress reduction.
If your goal in getting a facial is just to be pampered, chances are good that you'll find what you're looking for; there's really no downside.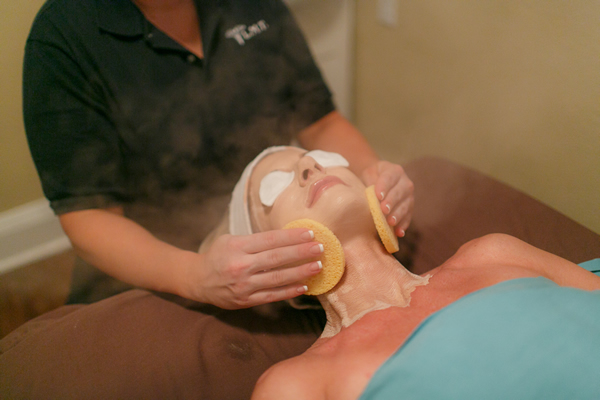 For others, a facial is primarily a way to improve the look of their skin. Daily damage to your skin can be caused by the body's natural processes, the sun, smoke exposure, stress, diet, and other elements. Your skin constantly sloughs off dead cells that can clog pores and give the skin an aged look; facials can fix these common skin problems.
Facials will provide the following benefits:
Your skin will look and feel better after a treatment.
Facials help increase circulation and stimulate the skin, which will slow down premature aging.
Facials are a great preventative treatment to help you beat wrinkles before they occur.
Keeping your skin hydrated will help keep your skin moist and stop dehydration.
Our professional skin care specialists will analyze your skin, help you improve your complexion, and show you how to take care of it properly.
Many people have never experienced a facial. A facial makes a great gift for someone you love. Facials are great for both men and women, and a facial is a great introduction to skin care for a teenager.
We offer the following Facial Skin Care Treatments:
Therapeutic Facial
Relaxing Facial
Mini Facial
Hot Paraffin Treatment
A paraffin treatment is a form of deep heat therapy that uses warm oil-based wax to provide pain relief to the sore joints and muscles in your hands. It will sooth chronic joint pain, relax stiff muscles, and improve blood flow to the treated area. This treatment is perfect for increasing range of motion for people with arthritis, bursitis, osteoarthritis, fibromyalgia, and other chronic conditions that cause pain and stiffness.
This treatment has skin-softening benefits as well. Paraffin treatments also smooth and soften dry, chapped, rough and scaly skin, and increase the skin's elasticity allowing for increased movement and mobility. It can be helpful for chronic skin disorders such as eczema and psoriasis.
Liquified paraffin wax is very efficient at absorbing and retaining heat. When you dip your hand or foot, for example, into the paraffin bath, heat transfers from the wax into the affected area as the wax solidifies. The heat increases circulation and relieves pain and stiffness. To aid in skin softening, paraffin increases blood supply to the skin, while also opening pores and trapping moisture from underlying layers of skin.


More Information on our Exceptional Services:
Spinal Decompression
Herbal Body Wraps/Scrubs
Microdermabrasion
Massage Therapy
Sports Massage
On-site Corporate Chair Massages